The world of vaping has evolved significantly over the years, with countless options and flavors to choose from.
Among the latest innovations in the vaping industry is the Elux Legend 3500 Puffs Vape, a sleek and powerful device that promises an unforgettable vaping experience.
If you're curious about the variety of flavors this device offers and where you can get your hands on one, you're in the right place.
In this blog post, we'll delve into the Elux Legend 3500 Puffs Vape and explore its impressive array of flavors, with a focus on where you can buy Elux Legend 3500 Vape.
Elux Legend 3500 Puffs Vape: An Overview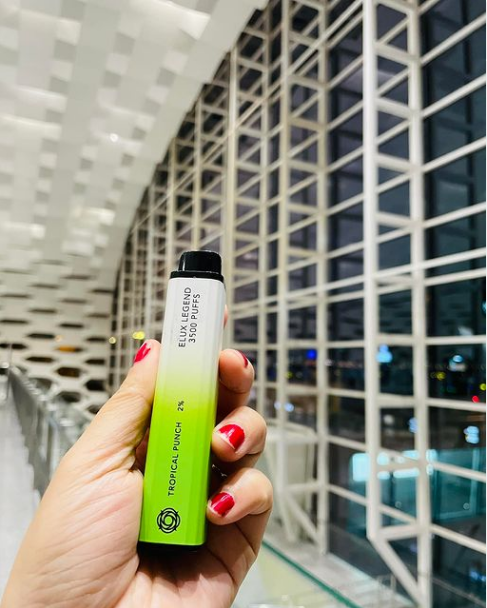 Before we dive into the tantalizing world of flavors, let's take a moment to understand what sets the Elux Legend 3500 Puffs Vape apart. This vaping device is a game-changer for enthusiasts who crave a longer-lasting and more convenient experience.
Elux Legend 3500 Puff Key Specifications:
Puff Capacity: 3500 puffs
Battery Capacity: 1500 mAh
The Elux Legend allows for a maximum of 3,500 puffs per nicotine cartridge.
Gives you smooth vaping experience 
Ideal VG/PG ratio
Helps abandon smoking habits
Huge range of tasty flavours.
With its remarkable 3500-puff capacity, you can enjoy extended vaping sessions without the hassle of constantly refilling or recharging your device. It's designed for both beginners and seasoned vapers, offering ease of use and robust performance.
How Many Elux Legend 3500 Vape Flavors Are There?
Now, let's explore the exciting part – the flavors! Elux Legend 3500 Puffs Vape boasts an impressive lineup of flavors that cater to a wide range of preferences.
Whether you have a sweet tooth or prefer something more refreshing, there's a flavor for everyone. Here's a list of the delightful Elux Legend 3500 Vape flavours:
Apple Peach Pear
Banana Pudding
Berry Lemonade
Blueberry Cherry Cranberry
Blueberry Pomegranate
Blueberry Raspberry
Blueberry Sour Raspberry
Blue Razz Lemonade
Clear
Cherry Cola
Cotton Candy
Fresh Mint
Fresh Mint Blackcurrant
Fuji Melon Grape
Gummy Bear
Jungle Juice
Kiwi Passionfruit Guava
Lady Pink
Lemon Ribena
Lemon Lime
Mr Blue
Peach Blueberry Candy
Pineapple
Red Apple Ice
Rye Bread
Strawberry Energy
Strawberry Grape
Strawberry Kiwi
Strawberry Peach Lemon
Unicorn Shake
White Peach Razz
Peach Mango
Mr Pink
Pink Lemonade
Tropical Punch
Tiger Blood
Vimto
Watermelon Ice
Cherry Ice
Watermelon Cherry
Blueberry Strawberry Blackberry
Strawberry Raspberry Cherry Ice
With such an extensive list of flavors, you can explore a different one every time you vape, keeping your experience exciting and fresh. Whether you're in the mood for fruity, sweet, or refreshing, the Elux Legend 3500 Puffs Vape has you covered.
Also Read: What are the Best Elux Legend 3500 Puffs Flavours?
Where to Buy Elux Legend 3500 Puffs Vape?
Now that you're eager to try out these delectable flavours, you might be wondering where you can purchase the Elux Legend 3500 Puffs Vape. One trusted and convenient option is to shop online.
Among the numerous online stores, Cigma Vape stands out as a leading retailer that specializes in high-quality vaping products, including the Elux Legend 3500 Puffs Vape.
Cigma Vape: Your Trusted Vaping Store
Cigma Vape is an established online store known for its commitment to providing vapers with top-notch products and a seamless shopping experience. Here's why Cigma Vape is an excellent choice for purchasing the Elux Legend 3500 Puffs Vape:
Wide Selection: Cigma Vape offers a diverse range of vaping products, ensuring you have access to the latest and most popular devices and flavors, including the Elux Legend 3500 Puffs Vape.

Quality Assurance: Cigma Vape prides itself on sourcing and selling only genuine, high-quality vaping products. When you purchase from them, you can trust that you're getting the real deal.

Competitive Prices: Cigma Vape is committed to offering competitive prices, ensuring you get the best value for your money. You can enjoy your favorite Elux Legend 3500 Puffs Vape flavors without breaking the bank.

Convenience: Shopping online at Cigma Vape is incredibly convenient. You can browse their extensive catalog, place your order from the comfort of your home, and have your products delivered right to your doorstep.

Customer Support: Cigma Vape has a dedicated customer support team ready to assist you with any inquiries or concerns. They prioritize customer satisfaction and are always there to help.

Secure Payment: Cigma Vape ensures the security of your payment information, providing a safe and worry-free shopping experience.
 Also Read: Where to Buy Elux Vape Wholesale?
Conclusion
In the world of vaping, the Elux Legend 3500 Puffs Vape is a remarkable device that offers an extensive selection of flavors to cater to your taste buds.
Whether you're into fruity delights, sweet treats, or refreshing options, there's a flavor that suits your preferences.
When it comes to purchasing the Elux Legend 3500 Puffs Vape, Cigma Vape emerges as a trusted online store that provides quality products and a hassle-free shopping experience.
So, go ahead and explore the world of Elux Legend 3500 Puffs Vape flavors, and don't hesitate to make your purchase at Cigma Vape for a satisfying vaping journey. Happy vaping!